Luou is a character in the Chūka Ichiban! series. Usually drunk and known for it, his true identity is the charisma of the Guangzhou culinary world. Luou serves as the head chef of Yosen Sake House and serves as the deputy elder of the Guangdong Confucian Association.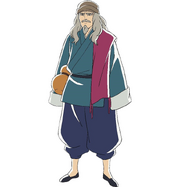 He has long gray hair reaching over his shoulders at the front. Luou's thick eyebrows are above his physically small eyes and he also has a styled mustache and long chin beard.
He wears a long and wide sleeved top with baggy pants reaching his shins.
Shows an inquisitive side when judging food products, Luou also laughs loudly with joy at realizing what is before him.
Luou supports the cooking contest between Shell and Mao, and also judges the results.
When it comes to Mao's result, he is impressed at what he discovers namely the extent that an entire pig has been used in a single shumai. Luou describes the interior of the shumai as the entire universe of pork.
Afterwards he describes it as an excellent contest.
He taught Liu and encouraged his departure for him to learn about the existence of legendary utensils to aid in cooking.
Not much is known, but Luoh is described to another Super Chef despite his drunken attitude and old man wisdom. In the 1997 anime, Luoh proves his skill by demonstrating his Devil Cow Knife with his superhuman strength.
Community content is available under
CC-BY-SA
unless otherwise noted.